__________________________________________________________
En Hommage :
Jim Keith
Cette page est la traduction, par The Avalon Translation Project,
d'une publication du site originel de Project Camelot.
---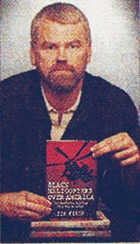 Le chercheur Jim Keith est décédé le 7 septembre 1999 à l'hôpital de Washoe, au cours d'une opération de chirurgie réparatrice sur le genou dont il souffrait, après être tombé de la scène du Burning Man Festival de Black Rock, dans le Nevada. Les médecins ont déclaré qu'un caillot de sang avait été libéré au cours de l'opération et avait atteint le cœur, causant un œdème pulmonaire.

Auteur de nombreux livres provocants, tels que The Octopus, Mind Control, World Control, Black Helicopters over America, OKbomb!, Saucers of the Illuminati, Casebook on Alternative 3, Secret and Suppressed, et Casebook on the Men In Black, Keith était avant son admission à l'hôpital extrêmement inquiet, et il avait confié à un ami qu'il n'en sortirait jamais vivant.

Les lecteurs de ses nombreux livres le pleurent. Jim Keith, longtemps avant Internet, avait fait circuler le contenu de ses recherches par le biais de petits magazines tels que Dharma Combat et Notes from the Hangar. Son décès a engendré des spéculations sur la cause de son « accident ». Pendant une courte période après le décès de Keith, l'Etat du Minnesota a suspendu toute chirurgie du genou, suite à la mort de trois patients : et on a découvert que Cryolife, une banque de tissus, située aux environs d'Atlanta, en Géorgie, avait distribué des tissus provenant de cadavres et contaminés par une forme de bactérie clostridium – l'agent pathogène qui avait tué Ron Bonds.

Cette série de coïncidences fait tiquer beaucoup de chercheurs. Ajoutons qu'en 1999, dans son livre sur la guerre biologique Biowarfare in America, Keith avait parlé de Larry Harris, arrêté en 1998 par le FBI en possession d'anthrax. Selon Keith, Harris avait déclaré qu'on avait attenté à sa vie avec une aiguille contenant du venin de cobra, ce qui pouvait provoquer des caillots de sang dans les poumons. Et Keith avait auparavant écrit dans le magazine Fate que la CIA entreposait de grandes quantités de clostridium, la bactérie même qui devait le tuer, ainsi que Ron Bonds.






---
Soutenez Project Avalon - faites un don :



Merci de votre aide.
Votre générosité nous permet de poursuivre notre tâche

Bill Ryan