__________________________________________________________
En Hommage :
Morris K. Jessup

Cette page est la traduction, par The Avalon Translation Project,
d'une publication du site originel de Project Camelot.
---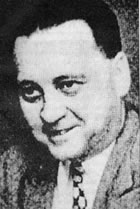 L'astronome et archéologue Morris K. Jessup s'est prétendument suicidé dans un parc du comté de Dade (Floride) en 1959. Il est indéniable que l'auteur d'ouvrages aussi influents que The Case for the UFO et The Expanding Case for the UFO soufrait de dépression. Les choses n'allaient pas bien pour lui, et il avait confié son pessimisme à des amis proches, tels que le biologiste Ivan Sanderson et Long John Nebel, l'animateur radio très connu de New York. Sanderson rapporta que Jessup était perturbé par « une série d'événements étranges » qui l'avaient entraîné « dans un monde complètement fou et irréel. »

La réalité à laquelle se trouvait confronté Jessup était-elle « complètement folle », ou bien peut-être existait-il des forces qui poussaient Jessup à bout, des forces qui savaient ce qu'elles faisaient ? Anna Genzlinger a enquêté sur sa mort de manière exhaustive. Sa conclusion : « Il subissait une forme de contrôle. » Il faut se souvenir que c'était l'époque des expérimentations secrètes du gouvernement liées au contrôle mental, qui n'ont été révélées que récemment.

Certains faits concernant l'affaire laissent supposer que sa mort pourrait ne pas correspondre aux apparences. Au moment de son décès, Jessup enquêtait sur l'Expérience de Philadelphie (The Philadelphia Experiment). Contre tout respect des lois de Floride, aucune autopsie ne fut pratiquée. Le sergent Obenclain, présent sur le lieu du crime très peu de temps après la découverte du corps, a déclaré pour mémoire : « Tout paraissait trop professionnel ». Le tuyau était fixé au pot d'échappement avec du fil de fer, et c'était du tuyau de machine à laver. Jessup est décédé à une heure de pointe, où la circulation était particulièrement intense. Il avait reçu trois jours avant sa mort la visite de Carlos Allende et, selon son épouse, il avait reçu des appels téléphoniques bizarres. La Marine s'intéressait beaucoup à ce qu'il faisait, et c'est l'ONI (Office of Naval Intelligence : le Bureau de Renseignements de la Marine) qui, dès le départ, a été au centre de la mise sous le boisseau du phénomène OVNI.
---
Soutenez Project Avalon - faites un don :



Merci de votre aide.
Votre générosité nous permet de poursuivre notre tâche

Bill Ryan