__________________________________________________________
Jim Keith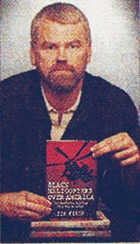 Pesquisador Jim Keith morreu no Hospital Washoe Medical em 7 de setembro de 1999, durante uma cirurgia para reparar uma fractura no joelho que ele sofreu depois de cair do palco no Festival Burning Man em Black Rock, Nevada. Os médicos afirmaram que um coágulo de sangue formou-se durante a cirurgia e viajando para o coração, causou um edema pulmonar.
O autor de muitos livros desafiadores - incluindo The Octopus (O Polvo), Mind Control (Controle da Mente), World Control (Controle Mundial), Black Helicopters over America (Helicópteros Negros sobre a América), OKbomb, Saucers of the Illuminati (Disco Voadores dos IlLuminati, Casebook on Alternative 3 (Diário sobre a A.ternativa 3), Secret and Suppressed (Secretos e Suprimidos) e Casebook on the Men In Black (Diário dos Homens de Preto) - Keith estava extremamente preocupado antes de ser internado no hospital e confidenciou a um amigo que ele tinha medo de que ele nunca sairia vivo de lá.
Os leitores de seus livros ficaram de luto por Jim Keith, que também tinha uma história pré-internet longa de circulação de suas pesquisas através de revistas não famosas, tais como Dharma Combat (Karma de Combate) e Notes from the Hangar (Notas do Hangar). Depois de sua morte, a especulação sobre o "acidente" de Keith tornou-se abundante. Após a morte de Keith, o estado de Minnesota cancelou todas as cirurgias de joelho por um breve período após três pacientes morrerem, e Cryolife, um banco de tecidos fora de Atlanta, Georgia, foi descoberto ser o fornecedor dos tecidos de cadáveres contaminados por uma forma de bactéria clostridium - o mesmo patógeno que matou Ron Bonds.

This is the kind of coincidence chain that raises the eyebrows of many researchers. Add to it that in his 1999 biowarfare book, Biowarfare in America, Keith wrote about Larry Harris, who was arrested by the FBI for anthrax possession in 1998. According to Keith, Harris claimed that an attempt had been made on his life with a needle containing a cobra venom which could induce blood clots in the lung. And Keith had previously written at length in Fate magazine about the CIA's warehousing of a large supply of clostridium bacteria... the same bacterium which was to kill himself and Ron Bonds.

Este é o tipo de coincidência em cadeia que levanta suspeitas em muitos pesquisadores. Soma-se a isso que no livro sobre bioguerra em 1999, Biowarfare in America (Bioguerra na América), Keith escreveu sobre Larry Harris, que foi preso pelo FBI por posse de antraz em 1998. De acordo com Keith, Harris afirmou que uma tentativa havia sido feita contra a vida dele com uma agulha contendo um veneno de cobra que poderia induzir coágulos de sangue no pulmão. Keith já tinha escrito longamente na revista Fate (Destino) sobre o armazenamento na CIA de um grande suprimento de bactérias clostridium... a mesma bactéria que matou ele e Ron Bonds.

---