__________________________________________________________
En Hommage :
le Dr. William Koch
Cette page est la traduction, par The Avalon Translation Project,
d'une publication du site originel de Project Camelot.
---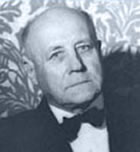 William F. Koch est né en 1885 à Detroit, dans le Michigan. Docteur en médecine et professeur de chimie, d'histologie et de physiologie, William Koch a recherché, inventé et breveté un mode de traitement, à base de réactifs utilisant des substances chimiques, pour restaurer le mécanisme d'oxydation du corps, lui permettant ainsi de s'auto-guérir.

En tête de ceux-ci figurait le « Glyoxylide », dont la formule est maintenant perdue. Lui et d'autres ont pu, grâce à ce traitement, guérir de nombreux cas de cancer, de tuberculose et de bien d'autres maladies. Le président de l'American Medical Association, Morris Fishbein, s'est efforcé en 1919 d'acquérir et de contrôler la méthode mise au point par le Dr. Koch. En vain. Fishbein a alors usé de toute la puissance de diverses agences gouvernementales des Etats-Unis pour obliger le Dr. Koch à se retirer des affaires. Ce dernier a été poursuivi par la FDA [la Food and Drug Administration, l'Agence Fédérale américaine des produits alimentaires et médicaux – NdT], pour être finalement acquitté après avoir obtenu le témoignage de 600 médecins en sa faveur. Le Docteur Koch est mort, empoisonné, le 9 décembre 1967, le même mois et la même année que le Dr. Eugene Blass, le « père » de l'Homozon™.






---
Soutenez Project Avalon - faites un don :



Merci de votre aide.
Votre générosité nous permet de poursuivre notre tâche

Bill Ryan